Home | About | Roster | Schedule | Gallery
May Madness!
Welcome to the website for the May Madness Tournament!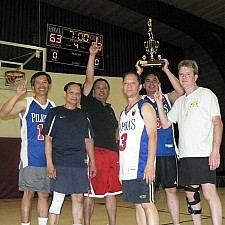 Congratulations to the Alumni team, which took 1st place with 3 wins!
A Saint Catherine of Siena 8th Grade Fundraiser
Friday, May 16 to Saturday, May 17, 2008
Saint Catherine of Siena School Gym
A Basketball Tournament for Parents of Saint Catherine of Siena Students
(and former students!)
Here you'll find information like copies of the entry form, game schedule, rosters of players, rules, and other information for the team families. I've been pretty busy so the site's pretty sparse at the moment, but be patient and you'll find more things on it in due time.
— Coach Van
If you have any questions, feel free to email me at vbagnol (at) sbcglobal (dot) net
Need an Entry Form?
May Madness flyer and entry form (PDF format)
News
May 1, 2008
New: Shootout Contest for the Kids!
We are going to give kindergarteners through 8th graders a chance to win prizes! For more information visit here.